Zabiłem moich najbliższych przyjaciół – rzekł wolno. – Jaki człowiek robi coś takiego?
Wysunąłem się zza stołu.
Taki, który jest chory – odparłem, podchodząc do drzwi. – Dlatego jesteś tu, a nie w więzieniu.
Kiedy psychiatra Stephen Seager rozpoczął pracę w kalifornijskim szpitalu psychiatrycznym Gorman State, nazywanym powszechnie Gomorą, pracował w niejednej tego typu placówce. Jednak do tego, co zobaczył, przeżył i z kim miał do czynienia w środku, nie mógł przygotować się w żaden sposób.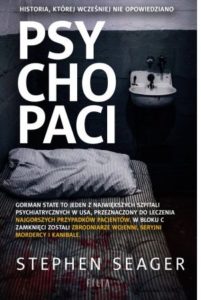 Książka Seagera to szczera, refleksyjna i porywająca relacja doświadczeń z terapii prowadzonych w Gorman State. Psychiatra pozwala nam zajrzeć do przerażającego świata zamieszkanego przez najgorszych psychopatów, do którego tylko nieliczni mają wstęp.
Gorman state to miejsce, w którym panuje niewyobrażalna przemoc.
materiały:Wydawnictwo FILIA