Mawiają, że ciekawość to pierwszy stopień do piekła. Czasem to wręcz igranie z ogniem, a stawką staje się życie.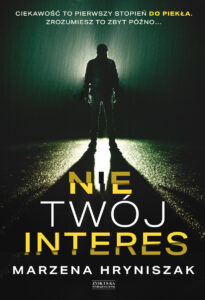 Noc, podczas której Wojtek Redyński, zwykły pracownik warsztatu samochodowego, niezamierzenie staje się świadkiem przestępstwa, nie tylko przesądza o jego dalszym losie, ale zapoczątkowuje ciąg śmiertelnie niebezpiecznych wydarzeń. Nie tylko dla niego.
Lidia Szwed, wracając późną porą do domu, staje się świadkiem dramatycznej sceny napadu. Reflektory jej samochodu płoszą oprawców. Lidia podejmuje spontaniczną decyzję, by pomóc pobitemu człowiekowi. Od tego czasu ich losy się splatają.
Gdyby Wojtek wiedział, do czego gotowi są posunąć się gangsterzy, być może nigdy nie wszedłby im w drogę.
Wydawnictwo ZYSK i S-ka